Main Content
Need Help?
If you or someone you know may have been a victim of sexual assault, relationship violence, or stalking, please know there is immediate support available to you.
Support can be obtained 24 hours a day/7 days a week, from Safe Office professionals at 336.758.5285. If you are concerned about a potentially life-threatening situation, please contact WFU Police at 336.758.5911, or 911.
For additional information about seeking medical assistance and emotional support, as well as important contact information, see Get Help.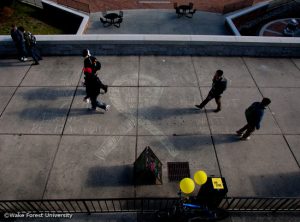 PREPARE is made up of approximately 60 undergraduate students from across campus who are dedicated to promoting healthy relationships and sexual assault prevention at Wake Forest.
All PREPARE student members complete a training course (WGS 397-B) or a one-day intensive workshop to become PREPARE Facilitators who conduct educational and awareness programs.
The PREPARE Executive Board oversees all functions of PREPARE including education and programming efforts and advocacy efforts.
Sexual Assault Prevention and Education: What Do We Do?
Conduct sexual assault awareness and prevention programs for all incoming students (now approximately 1300 students) during Orientation
Organize an annual campus-wide Sexual Assault Awareness Week called Tie a Yellow Ribbon Week each February
Sponsor campus-wide programming to educate students on issues of healthy relationships, consent and sexual assault (recent programs include Can I Kiss You? and Sex Signals)
Support community events related to violence prevention
Collaborate and partner with students, offices, and departments on campus to provide programming, services and training related to sexual assault (recent programs include Denim Day [PDF] and the Monument Quilt)