Main Content
Need Help?
If you or someone you know may have been a victim of sexual assault, relationship violence, or stalking, please know there is immediate support available to you.
Support can be obtained 24 hours a day/7 days a week, from Safe Office professionals at 336.758.5285. If you are concerned about a potentially life-threatening situation, please contact WFU Police at 336.758.5911, or 911.
For additional information about seeking medical assistance and emotional support, as well as important contact information, see Get Help.
If you or a friend have been sexually assaulted, please consider getting help. For information about what you can do, follow the links or contact a confidential resource below: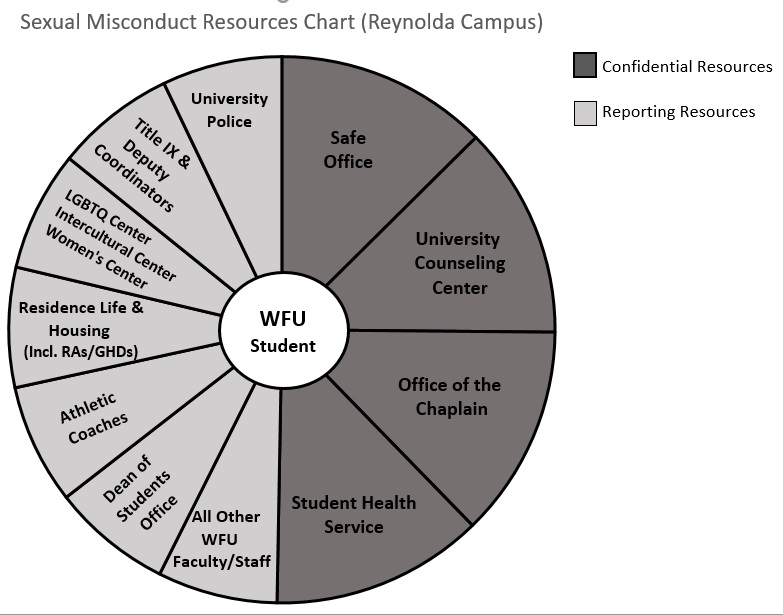 Confidential Campus Resources:
Safe Office (336.758.5285) provides consultation and 24/7 year-round crisis response to Reynolda Campus students in cases of sexual assault, intimate partner violence or stalking and can provide transportation to a local hospital, discuss reporting options and offer support and assistance through a judicial or legal process. Location: 414 Benson
Student Health Service (336.758.5218) is open 24/7 during Fall and Spring semesters and provides medical care including checking for injuries and treating for STDs or pregnancy. Student Health can also help with a referral to a local hospital for an evidence collection kit. Location: Reynolds Gym, Ground Floor
University Counseling Center (336.758.5273) offers free individual and group counseling and consultation M-F from 8:30am-5:00pm and crisis assistance to Reynolda Campus students 24/7/365. Location: 117 Reynolda Hall
Office of the Chaplain (336-758.5017) provides pastoral counseling and support. The chaplain on-call can be reached through Student Health (336.758.5218) for urgent needs after hours or on weekends. Location: Suite 8 Reynolda Hall
Confidential Off-Campus Resources:
Family Services (336.722.4457) – local 24-hour rape crisis line; Family Services also has a crisis line for victims of intimate partner violence and can provide ongoing counseling
RAINN (1.800.656.HOPE) – national 24-hour hotline connects callers with a local rape crisis center; RAINN also has an online hotline that uses an instant-messaging type format and allows anonymous access to help and information
National Domestic Violence Hotline (1.800.799.SAFE) – national 24-hour hotline connects callers to highly trained individuals to assist in navigating unsafe or unhealthy relationships.